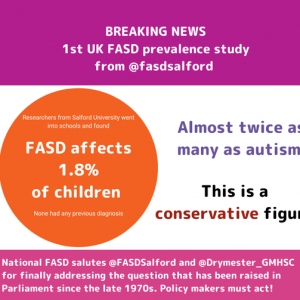 New research was announced today from Salford University…...
‼️New research was announced today from Salford University‼️
A team of researchers at Salford University, led by Prof. Penny Cook, did an 'active-case ascertainment FASD prevalence study.'
That means they went into schools and actively screened the students to see who has FASD. Of those students who participated, the Salford team diagnosed 1.8% with FASD (some of the country's leading FASD clinicians were involved – this was rigorous and done according to established diagnostic criteria.)
None of those they identified had previously been diagnosed with neurodevelopmental conditions, showing once again the FASD is a 'hidden epidemic.'
There were other at-risk students who did not participate, so the rate was likely to be higher than 1.8% if everyone had participated.
This study was small scale. We need a national level research study to further look into this.
This figure has been a long time coming! MPs first raised the need for a proper understanding of the prevalence in the late 1970s. It's time for policy makers to get serious about FASD. Change is coming with a new NICE Quality Standard on FASD due out later this year, but that's just a start.
The Salford prevalence study findings are not yet published – they are awaiting peer review.
The research was funded as part of the Greater Manchester Health and Social Care Partnership's Alcohol Exposed Pregancies Programme. The figures were provided at the "Preventing Alcohol Exposed Pregnancies in Greater Manchester" event today (12 May) organised by the GMHSC AEP Programme.
DRYMESTER Greater Manchester Health and Social Care Partnership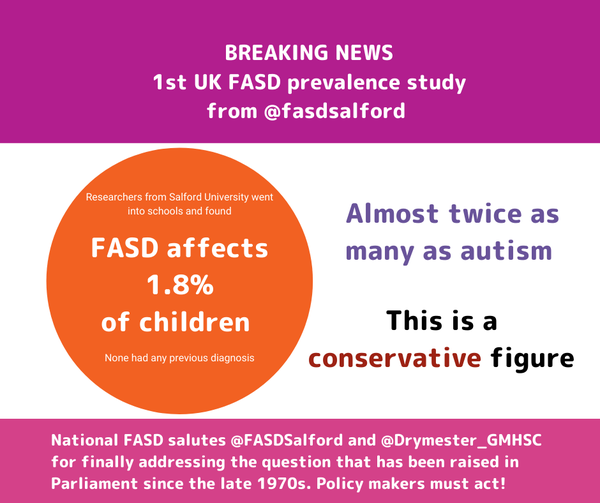 We put this out on 12 May 2021